Diesel Fuel Sampling & Lab Testing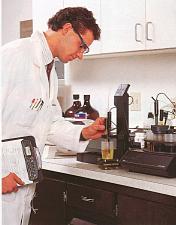 Fuel sampling and evaluation is the key to determining when a problem exists. While water at the bottom of your tanks may be easily visible, the quality and stability of your Diesel Fuel is not, and should be tested annually.
A good fuel evaluation should include visual findings as well as a complete lab analysis. Dr. Fuel Clean can provide a full in-depth Lab Analysis of your Diesel Fuel and provide you with a solutions to correct your fuel problems, as well as maintain the quality of your fuel.
Our Diesel Fuel Lab Analysis Includes:
D-976 – CETANE INDEX
D-6304 – WATER
D-1796 – WATER & SEDIMENT
D-287 – API GRAVITY
D-86 – DISTILLATION
MICRO-ORGANISM
ISO Cleanliness Code
Wow! A Marine contractor that showed up on the day and time agreed. Professional people and job well done. I have been battling with this fuel for 2 years and these guys fixed my problem. Thanks! (continue)